Appointments
Are you in pain?  Don't suffer any longer. Call us today to schedule your appointment.
Schedule Now
Treatments
Each person requires an individual healing plan.  Learn more about our services and healing technologies.
Treatment Options
Testimonials
See what people are saying about their experience with the doctors, staff, and treatments.
Testimonials
Non-Surgical Back Pain & Neck Pain Treatment Arizona
Arizona Chiropractic Center specializes in applying a multi-faceted approach to relieving pain, addressing the cause of problems, and achieving better health & wellness. No one should have to live with pain. By leveraging a range of treatment types we can relieve your pain while also treating the underlying cause of the pain, and preparing your body to make it less likely for the condition to return.
Relieving pain and treating conditions is hugely important, but at Arizona Chiropractic Center our commitment goes even further. Just as we believe that you shouldn't have to live in pain, we also believe that we all need to take better control of our health through non-invasive therapies, exercise and nutritional changes. Our team will help you outline a wellness plan and will be here to work with you in order to keep you healthier and happier for years to come.
Drs. Chris and Diane Koch
Drs. Koch are highly renowned Chiropractic Physicians who each have over 19 years of experience. They have successfully treated thousands of patients since 1996 combining chiropractic therapy, spinal decompression, cold laser, PEMF and a variety of other non-surgical treatments.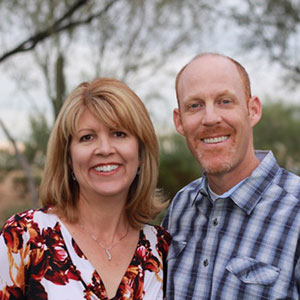 Ready To Schedule Your Initial Consultation?
If you are suffering and are ready to take the steps necessary to get better, Arizona Chiropractic Center can help you find relief while providing you with a plan and training to achieve improved health and wellness. To get started contact us today to schedule your initial consultation with Dr. Chris Koch or Dr. Diane Koch.
Non-Surgical Treatments & Services
Dr. Chris Koch and Dr. Diane Koch and their staff at Arizona Chiropractic Center are leaders in the field. They focus on non-surgical treatment of auto accidents, acute and chronic pain and suffering, and nutritional and lifestyle approaches to health and wellness.
Chiropractic adjustments include gentle movements of the joints in the spine to relieve pressure from nerves and other tissues.  It relieves pain & restores function.
Non-surgical spinal decompression is a natural treatment for disk bulges, disk herniations, back pain, and sciatica.
Massage therapy is the gentle manipulation of muscles and used to speed the healing of the body, enhance its function, and relax the body & mind.
PEMF stops pain, reduces inflammation, and restores energy back to the cells.  Described as 'cellular exercise', it invigorates the nerve system and rapidly speeds healing.
Erchonia Cold Laser Therapy addresses a wide variety of health problems.  It received its first FDA clearance in 2002, and it has been proven to be a wonderful adjunct to care by Dr. Koch.
Sometimes health solutions are easy, and sometimes they aren't easy.  Blood tests may be ordered and lifestyle and supplementation recommendations may be made.