An Effective Treatment For Failed Back Surgery
In the U.S., more than 1,150,000 people go under the knife for spinal problems every year, a rate double that of most developed countries and five times that of the United Kingdom. The stats don't change though. "Maybe 5 percent of patients with back pain need surgery," says Dr. Charles Rosen, MD of UC Irvine.
The medical journal Spine reports an alarming 74% back surgery failure rate! If you fall into this category, you are not alone.
Effective & Non-Invasive Back Pain Relief
There is hope. Certain therapies can be very effective at treating Failed Low Back Pain Syndrome. The following services have been proven to be very effective at both pain relief and providing more spinal stability:
I was having severe pain in my lower back and neck for almost a year, the last few months were unbearable and eventually I was unable to work. I'm so thankful that I found Dr. Koch! He is a wonderful doctor, confident in his skills, compassionate, a big heart and truly cares for each and everyone he helps. He takes the time to get to know you, answers all your questions, explains everything that needs to be done and always has positive, encouraging words. Since my first visit I have improved tremendously and should be going back to work soon. Dr. Koch and all the staff make you feel like family, they honestly care about your well being. I'm on my way to living a healthy and pain free life. Thank you Dr. Koch, you're awesome!
Christine I.
Drs. Chris and Diane Koch
Drs. Koch are highly renowned Chiropractic Physicians who each have over 19 years of experience. They have successfully treated thousands of patients combining chiropractic therapy, spinal decompression cold laser, PEMF and a variety of non-surgical treatments. They believe in designing a personalized care plan based on the patient's history, results of diagnostic tests and a physical examination. Don't suffer any longer. Contact us today.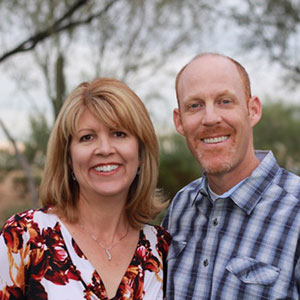 At Arizona Chiropractic Center we do a full back pain analysis, and develop an individualized treatment plan. We have a multitude of gentle therapies that can treat your condition with a variety of technologically advanced procedures.